Hi, and welcome to Johnmiracle Ejikeme. The reason I started this foundation is to show the entire public the way to financial freedom through the internet wealth opportunities. And if this is your first time here, you can read my short Autobiography.
In the next few pages of this article on HEX STAKING STRATEGY, I am not going to go deep into Blockchain Technology and Cryptocurrency, but then, I will just open your eyes to how you can become a millionaire within #365 days staking hex.
Cryptocurrencies are the highest appreciating asset class in the history of mankind. Bitcoin's price did 2,000,000x from $0.01 to $20,000 in 7 years. Ethereum did 10,633x from $0.15 to $1,595 in 2.5 years.
Had you put in $1, you could have made millions, many did. It's Life-changing wealth.
I started investing in cryptocurrency late 2019 when I actually made a lot of money unknowingly from one of my little cryptocurrency purchase, and until then I started my career digging deep into the brain behind cryptocurrencies. The Blockchain Technology.
I even went to the extent of taking a best seller course worth $129 in Udemy just to grab the in depth knowledge about blockchain and cryptocurrency.
Right Now, I am confidently saying that "Never a day will run by without me earning from my activities in several blockchain"
With my knowledge I have launched my own cryptocurrency project under wave blockchain, BCNO token and currently I have a growing community waiting for my better launch so they will start trading the token under wave exchange.
The great thing is that my project is currently listed and tracked by a popular market cap Coinranking.
I have actually published a complete A – Z guide about Blockchain & Cryptocurrency, so if you indeed want to take this technology serious then I urge you to get a copy.
Enough of the intros, let now go into the Hex staking strategy guide proper.
My Personal Hex Staking Strategy to Making $$$$ in #365 Days
For convenience's sake, I decided to do a live recording showing my hex staking strategy and how it is going successfully, take a minute to watch my insane hex staking strategy.
I bought and stake hex during their Bigpayday (a promo) when 1 Hex was sold for $0.005 that's around November 2020.
I bought 4568 Hex and staked it for 100days and after the bigpayday promo I was gifted 1571 Hex and my staking reward is 1680 Hex.
So in total I have accumulated 6248 Hex
In December 2020, Hex have moved up to $0.013 and that's means I have made over $70+ in profit. But then, my goal is not to cash out because Hex is a good investment due to the use case of their blockchains.
My hex staking strategy is targeted towards holding and accumulating more Hex through staking until 1 Hex hit up to $0.5 or more so that my total cash out will be reading in million's and not thousands.
So you have to define your goal, and have FOCUS, are you looking for feeding money or upkeep cash or are you focusing on making a fortune with cryptocurrency or blockchain technology?
No matter your focus you can achieve that with cryptocurrency if you have a definite strategy.
So if you feel interested in Hex staking, then read on. I have provided a step by step guide to help you get started.
What is Hex
Bank CD's (certificates or deposits) are worth trillions of dollars. CD's pay higher interest rates than savings accounts. It requires money to be deposited for a fixed time.
The Problem – Banks profit on withdrawal fees and poor customer service. On top of that, they auto-renew your CD at lower rates. Additionally, the USD price is constantly losing value as it is printed all the time.
The Solution – HEX takes the profit out of banks and government money printing, and gives it to the HEX holders. HEX staking also pays higher interest rates then all bank CD's.
HEX is the first certificate of deposit on the blockchain! HEX pays Trust-less Interest with no counter party risk.
What is Hex Staking
Staking HEX is the process of locking your HEX for a defined time of your choosing. As a reward for locking HEX, you will be paid HEX in interest. You will not be able to receive this HEX until the Stake period has completed.
When you stake, keep this in mind. Bigger pays better, longer pays better
Guide to Stake Hex
1. Open Your Browser, Open MetaMask to Login
Open Google Chrome, and click on the Metamask Icon in your toolbar.BackNext Step
2. Login to MetaMask
Login to MetaMask. If you're already logged in, you can proceed to the next step.BackNext Step
3. Click on the Stake tab
Go to the HEX website (click here) and click on the Stake tab.BackNext Step
4. Enter Stake Details
Enter the amount in HEX to stake (green rectangle)
Enter the length in days you would like to stake (red rectangle)
Notice the Orange sqaure as you are inputing amount/length values. These values are updated and give you interest you would earn as well as the BIG PAYDAY you will receive. The Big payday will occur on day 351 of the Adoption amplifier process.BackNext Step
5. Enter Stake Details
Enter the amount in HEX to stake (green rectangle)
Enter the length in days you would like to stake (Red rectangle)
Notice the Orange sqaure as you are making inputing amount/length values. These values are updated and give you interest you would earn as well as the BIG PAYDAY you will receive. The Big payday will occur on day 351 of the Adoption amplifier process.
After you're comfortable with your amount, click on the STAKE button (Red arrow)BackNext Step
6. Confirm MetaMask transaction
Confirm the staking transaction.
You can click the EDIT link to speedup the transaction (Orange arrow)
Click on the Confirm button (Red arrow)BackNext Step
7. Stake Complete!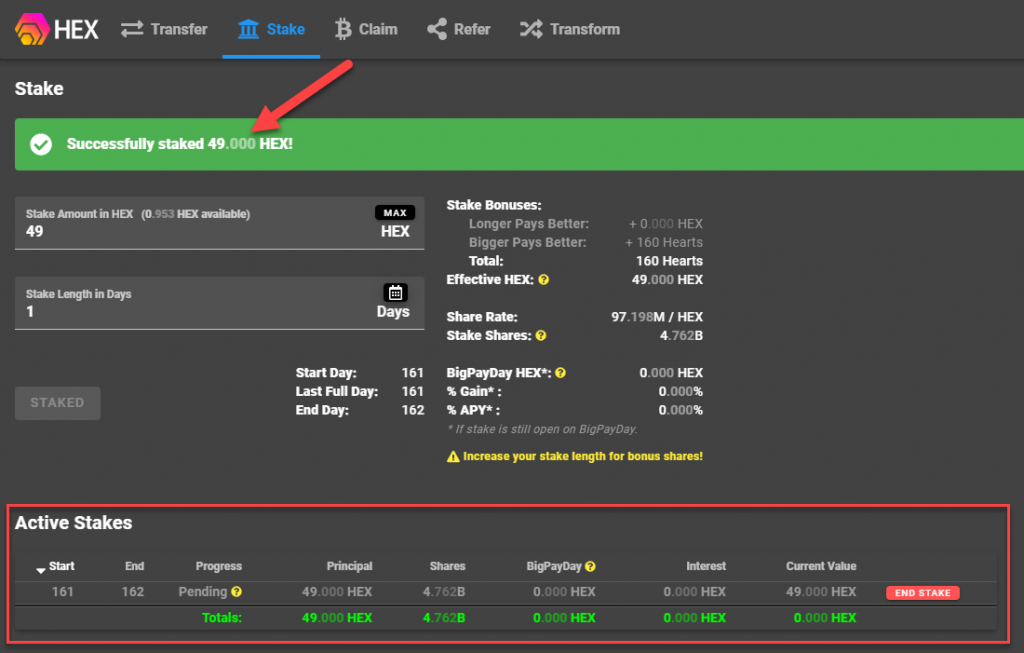 Congratulations! You have successfully staked your HEX!
You can track your stake in the Active Stakes section (Red arrow)BackNext Step
8. End Stake when complete
Don't forget to come back to the staking tab and check on the progress of your stake. Once it reaches 100%, you can end the stake.
If a completed stake is unclaimed after two weeks you will begin to lose your HEX in the stake.
To end the stake click on the End Stake button.BackNext Step
9. End Stake or Good Accounting?
When you click on End Stake you will see two options.
End Stake – This option will end your stake
Good Accounting – Selecting this option will prevent you from losing any HEX from your stake. As mentioned in the previous step, if you have an unclaimed stake and two weeks pass by, then you will start to lose your stake profits as well as the HEX that you have staked. Selecting this option prevents you from those fees without actually claiming the HEX back to your wallet. BackNext Step
10. End Stake Meta Mask Confirmation
After ending your stake you will be prompted by meta mask to confirm the transaction.
Here you can click on Edit to speedup the transaction, then click on the Confirm button.BackNext Step
Hex Staking Strategy
Choose your hex staking strategy wisely as early unstaking before stake maturity incurs penalties.
Trying HEX Strategy
Staking for the first time
1 day
Laddering Strategy
Spread your investment across several maturities to have liquid HEX when you want it. Don't overdo laddering as gas fees might increase in the future.
Non-Committal Strategy
You don't want to fully commit yet, but want to participate in staking bonuses
30 days
It's-Your-Time Strategy
You have realized the major innovation HEX brings and want to commit
Stake as long as you have owned cryptocurrency so far (a timeframe that should feel long but not overwhelming)
Bought your first Crypto in 2017? Means a 3 years stake.
1-Year Re-Stake Strategy
Intend to use the money next year
Stake for 1 year, take what you need and re-stake the rest
Max Bonus Strategy
Maxing size and length for max staking bonuses
150M+ HEX for 5555 days
Wisdom-of-Crowds Strategy
Average staking duration is 4.8 years (source: hex.live)
Clusters of people stake around 1, 2 and 10 years
Final Verdict
HEX's USD price went up 352x in 361 days. HEX is more secure, faster, cheaper, better for the environment, has more features and addresses a larger market than Bitcoin. So far, HEX's price went up 146x vs Bitcoin.
HEX is like a notepad showing everyone's HEX balance and requiring their passwords to spend. Shareholders profit from the 3.69% annual inflation, early & late end stake penalties.
You mint shares by time-locking HEX (staking), with bonuses of 20% per year, up to 3x for longer and 1.1x for larger. The HEX needed to create a share (share price) goes up every day or two, simulating compounding interest. HEX is easy!
Did you Like this Guide?
Let me know in the comment section below.